The Santa Lucia Highlands A.V.A. (American Viticulture Area), created in 1991, spreads along the southeast facing terraces of the Santa Lucia Mountains. The proximity of the cold Pacific Ocean makes it perfect for growing Pinot Noir and Chardonnay. This cool body of water exerts its influence on the SLH AVA weather, bringing immense banks of thick early morning fog that lasts almost to mid-day. As the fog burns off, and the valley basks in sun, the warm air rises and cooler air is drawn in from Monterey Bay.
The spring months tend to be mild, prompting an early bud-break around February or March. The grapes then mature slowly to full phenolic ripeness in September or October. The cooling interplay of fog and wind give the Santa Lucia Highlands a shorter daily growth period resulting in a longer growing season of approximately 120 days, which is important for true physiological ripeness and flavour development.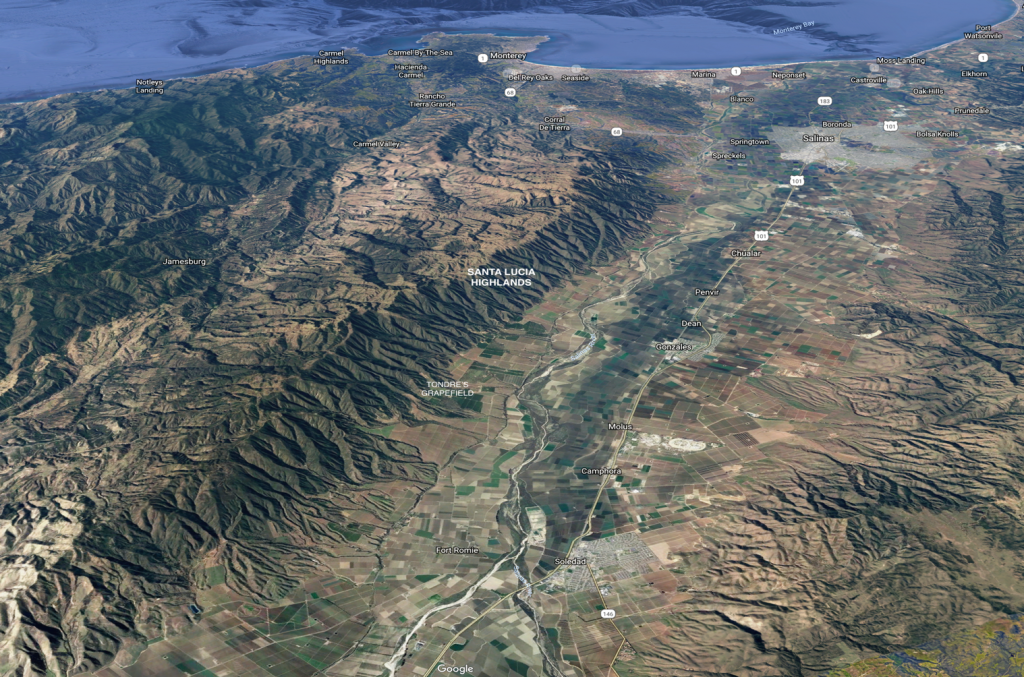 Tondre's Grapefield
Tondre's Grapefield was planted in 1997 on six and a half acres in the Santa Lucia Highlands AVA (American Viticulture Area). It now has seven blocks equaling approx. 99 acres, Pinot Noir 81 acres and Chardonnay 18 acres. It also includes a tiny amount of Syrah and Riesling. The clones of Pinot Noir planted are: 115, 667, 777, 943, and Pommard, which makes up the lion share of the Pinot.
There is a distinctive spiciness, almost redolent of forest floor, that permeates the entire AVA and becomes stronger the further north you go. The spiciness is due to cool conditions; think of how much cooler it is in the northern Rhone and how spicy those wines are in comparison to the wines from the southern Rhone. The same is true of the SLH AVA. The Tondre's Grapefield sits right in the middle, occupying a sweet spot between the north and south, capturing both the spiciness of the region but also the overt red and black cherry fruitiness of the Pinot Noir.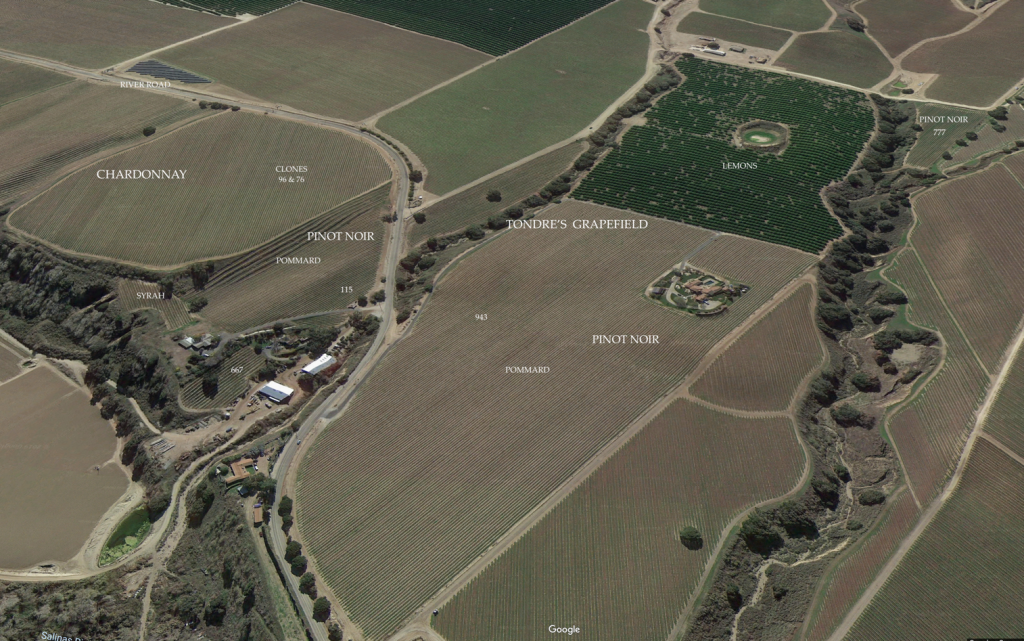 Back to Our vineyards